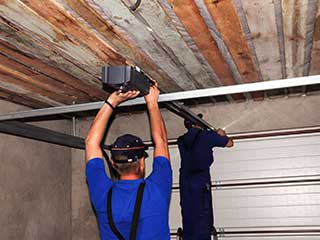 Fixing problems with garage doors isn't something you're planning on doing when you're in a hurry. But unfortunately, problems happen without our permission, and we often don't have time to waste trying to figure out how to repair our garage doors when they break down. Well, it's a good thing you don't have to. Garage Door Repair Malibu helps all nearby areas with emergency solutions for broken springs, track misalignment, opener troubleshooting, and many other service needs. When your garage door needs repairs, you can get professional fixes applied at inexpensive costs anytime.
Fastest Broken Garage Door Spring Replacement in Malibu
A problem all too common, but unfortunately very dangerous, broken springs will often make your garage door a hazard to use. Without working springs, garage doors are not safe for you to continue opening and closing like everything's normal. Because things aren't normal. The main strength of the system is compromised. Broken spring replacement can be dangerous too, so you need to let experts complete this task for you to avoid injuries. The Malibu garage door spring replacement services we deliver provide quick solutions on the same day you call. No waiting for help for hours, and no expensive repairs down the lane. You get the broken spring replaced there and then with no more hassle afterward.
My Garage Door Got Off Track – Help!
It sure can look alarming to see your garage door get stuck as it tries to open all the way. We know how frustrating unexpected garage door track problems are to the owners, so we make an effort to deliver the quickest solutions possible in such cases. Misaligned tracks, and garage door rollers popping out of them, can make it difficult for you to get the car in or out of the garage. We want that to be a long-lost memory for you, so when you've got a need for garage door track repairs, Malibu's best technicians are at your service. Leave it to our specialists to fix, realign, or replace tracks and rollers as needed. With on-the-spot solutions, you can expect your garage door to become usable again in no time.
Garage Door Opener Isn't Working
From worn motor gears to trolley problems to malfunctions with the logic board, garage door opener troubleshooting is what you need when you don't know what's going on. Sometimes reprogramming the garage door opener can solve the problem, and other times we need to replace wiring or other parts. Whatever the case, our Malibu garage door opener repair services provide the complete solution after troubleshooting the problem quickly. With immediate fixes, your planned day will only suffer a small hiccup and no other delays.
Experienced Garage Door Repairmen Near You
Whether you're in a hurry or not, our same-day solutions will offer you the best results. Garage Door Repair Malibu specializes in delivering fast, affordable, and most importantly reliable services. We replace broken springs quickly, find and fix opener problems, and solve any other type of malfunction these systems can experience. Need quick garage door repairs? Let us know whenever a problem crops up and get it solved ASAP.