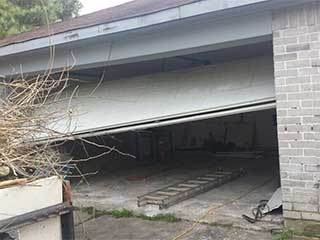 How ironic is being injured by the device that supposedly keeps you safe? Thousands of small or serious accidents related to garage doors are reported each year due to our negligence to fix the damages or take certain precaution measures. The bad news is that our children are the perfect victims; the good news is that there are actually some things we can do to prevent or at least minimize the possibility of getting hurt from our door panels.
Take measures to avoid accidents
Reverse Safety Feature. Apart from being a blessing, electric garage door openers caused accidents at first. Manufacturers made improvements and since 1993 they are restricted by law to include safety reverse systems according to the Consumer Product Safety Commission. What do these systems do? It's simple. The installed sensors can sense movement underneath the closing door and they either stop the operation or reverse it.
Teach Your Kids. Children must learn from an early age that garage mechanisms are not toys. At the same time, you must keep remotes and switches on the wall out of their reach. The garage door clicker can be transformed into an excellent game. Kids just love to press the buttons and see the door coming up and down. But if they are playing underneath the closing door and the sensors don't work properly, they might get hurt.
Upgrade Your Garage Door. If your opener is old and doesn't have the reverse safety feature, you must replace it. Even if you cannot afford garage door opener replacement right now, it's better to get a cheap one with safety features than run the risk of accidents.
Garage Door Maintenance. Garage systems last for a very long time, but only if you maintain them regularly. Regular garage door service will ensure that your door is stable and all parts are in perfect condition. Of course, you must the sensors every month.
Do NOT DIY. It's not recommended to repair or replace garage door parts on your own, but you could inspect your door for possible damages. DIY repairs have often led to serious accidents.